HYGIENIX WORKSHOP: Global Trends in Diapers, Baby Pants & Adult Underwear
Monday, November 15
3:00 pm - 5:00 pm
Global Trends in Diapers, Baby Pants & Adult Underwear
Gain a keen understanding of the latest global trends, regional product launches and differentiations in diapers, baby pants and adult underwear with Carlos Richer, Principal at Richer Investment and Natalia & Irene Richer from Diaper Testing International. Take a quick refresh on diaper basics and product differences across the globe. Complement product analysis with consumer feedback of various popular brands in the US to understand consumer reception of different diaper features and design parameters. Understand what the main concerns of consumers are and how prevalent each concern is across brands.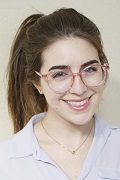 »

Irene Richer

Marketing Analyst & Partner, Richer Investment / Diaper Testing International

BIOGRAPHY

Irene is a Marketing Analyst and Partner at Diaper Testing International, a consulting firm for the absorbent hygiene industry with clients from all across the world.

Holding a BA degree from The San Francisco Art Institute, Irene merges her knowledge in marketing, design, and social media analysis with that of the absorbent hygiene industry. Helping her team and clients by incorporating her background to better understand marketing trends and consumer habits.