Fem Care: Challenge to the Status Quo I
Wednesday, November 17
2:00 pm - 3:15 pm
Are These Underwear Satin? No, They're Brand New!
A look at reusable menstrual and inco underwear - what are they and the changing attitudes towards them. A side by side comparison of pads, liners and pull ups versus reusable. Is the technology where it needs to be, is it really sustainable and do consumers care?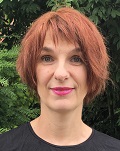 »

Heidi Beatty

Chief Executive Officer, Crown Abbey, LLC

BIOGRAPHY

Heidi Beatty has a successful track record as an Innovator and project manager. Over her 20-year career, Heidi has launched products for some of the world's leading brands as well as for some of the most entrepreneurial start-ups. As CEO of Crown Abbey, Heidi and her team helps a global client base across consumer, health care and nutritional categories to identify and commercialize new technologies.

After gaining a bachelor's degree in Chemistry from the University of York, UK, Heidi worked with Johnson & Johnson for over 10 years across Europe and the US. From there, she has worked at both mid-size companies as well as start-ups, before founding Crown Abbey, nearly 5 years ago.

Heidi speaks & moderates at many conferences on a variety of topics, including women's health products, innovation and project management tools.