Thursday, November 14
9:00 am - 11:30 am
Innovative Components & Concepts
Advanced Core On Roll Technology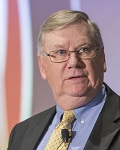 »

Donald Sheldon

Principal And Chief Technology Officer, Advanced Absorbent Technologies, LLC

BIOGRAPHY

Don Sheldon, along with two other retired industry executives, recently founded Advanced Absorbent Technologies, LLC. AAT has the mission of creating superior absorbent products with exceptional performance, dryness and thinness for the consumer market. To date Don has received two patents covering 3D absorbent structures which are incorporated into AAT's first new product "ALYNE™ Protective Underwear."

Don started his 45-year R&D career at Kendall Nonwovens. He then joined J&J Personal Products Division before joining K-C in Neenah, Wisconsin for 15 winters. While at K-C, Don was responsible for various Feminine Hygiene, Infant Diaper and Training Pants R&D projects. In 1995 Don joined Confab / Kendall / Tyco Healthcare / Covidien as VP of R&D, where for over 13 years he led the technical global expansion of the absorbent products division from $110 million in sales to over a billion dollars. This included significantly expanding their Adult products as well as assisting the company to enter the Infant Diaper market.

After Covidien, independently consulted for various companies in the absorbent products industry as a technical consultant and expert witness in various patent litigations. Don also co-founded Summalux, LLC, a company dedicated to improving health using full solar spectrum LED lights. Don has 5 patents covering this emerging LED technology.

In 2008, Don joined the Board of Directors of a 400+ person Non-Profit Company Handi-Crafters (www.handi-crafters.org) whose focus is to provide work and jobs for Adults with Employment Barriers. Before retiring from this organization in 2016, Don served as Chairman of the Board of Directors / President. Don joined Keiretsu Mid-Atlantic Angel Investment Network in 2015 as a Founding Member.

Don has a B.S. in Science from Western New England University, Massachusetts. He is also certified at the Black Belt level in Design for Six Sigma (DFSS). Don holds 25 U.S. Patents while his R&D teams have created 100's. Don and his wife, Mary, are avid global travelers and bicyclists. They currently reside in the western suburbs of Philadelphia.