Tuesday, November 12
11:30 am - 12:30 pm
The Changing Demographics of AHP Users
An Alphabet of Generations: Understanding Gen X, Y(?), Z and Alpha
Over the past 50 years the US has experienced a rapid succession of generations: Gen X, Millennials/Gen Y, and now Gen Z traverse adulthood, while the new Gen Alpha comes into childhood. Each of these generations has fundamentally altered society by differing in: characteristics (e.g., ethnicity/race, education), communication, values, marital patterns, and childbirth. This talk addresses these changes and considers where these generations may be headed next.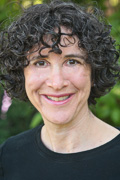 »

Karen Fingerman, Ph.D.

Director of the Texas Aging & Longevity Center, University Of Texas At Austin

BIOGRAPHY

Karen Fingerman is a Professor of Human Development and Family Sciences and the Director of the Aging Network at UT Austin. She has devoted over two decades to studying the Baby Boomers and the Millennials. Her research has been funded by the National Institutes of Health, the Brookdale Foundation, and the MacArthur Network on Transitions to Adulthood and an Aging Society. She has over 150 publications including 4 books addressing Millennials and Baby Boomers, their friends and family ties.