Wednesday, November 13
11:00 am - 12:30 pm
Developments Advancing Productivity
State-of-the-art FemCare/Adult Product Manufacturing: The Enabling Features Behind the Demanding World of Size and Grade Changes
In many manufacturing facilities of hygienic products, e.g. diapers, size grade changes are a challenge in terms of machine down times and overall machine efficiencies. This presentation outlines potential of how to design products, machines and the production environment to accelerate size grade changes.
Key Items:
• Design end-products in such a way that size grade changes require min. effort in the machine without causing an impact on the overall end-product performance.
• Use latest motion control techniques to design size parts free processes
• Introduce technologies to support quick size to size changes à BICMA "S2S" modules
• Target: Vertical machine start-up after size grade change
The constantly changing design requirements of today's sanitary napkins are increasing the complexity of modern production lines continuously. Challenging raw material specifications, product shapes and flexibility requirements are key drivers for modern maker machine designs.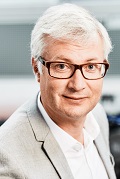 »

Marc Schnell

VP Hygiene Solutions, BICMA GmbH