Tuesday, November 12
5:00 pm - 5:30 pm
HYGIENIX Innovation Award™ Presentations
Regalite™ UltraPure
Eastman has developed a new innovative hydrocarbon resin called Regalite™ UltraPure. The innovative process results in a low-odor, low-trace-chemical, low-VOC solution while retaining excellent performance and formulation flexibility formulators. This new product gives formulators the freedom to formulate with SBS, SIS or APO while getting the lowest odor and trace chemicals content for every hot melt chemistry used, even for SBS/partially hydrogenated resin hot melt chemistry.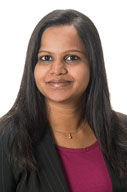 »

Ramya Ramaswamy

Segment Market Manager, Eastman Chemical Company

BIOGRAPHY

Ramya Ramaswamy is the global marketing manager for hygiene and packaging at Eastman. She has been at Eastman since 2010 and has served in numerous roles, including group leader, Corporate Six Sigma, Commercial Six Sigma Black Belt in business process improvement, and market insight and strategy manager. Ramaswamy holds an MBA from Wake Forest University and a bachelor's degree in electronic engineering from Visvesvaraya Technological University. Prior to her career at Eastman, she served as president of Torry Harris Business Solutions and worked as an IT consultant.