Tuesday, November 12
2:30 pm - 4:30 pm
Game Changes in Fem Care
Learnings & Challenges Faced When Developing Reusable Absorbent Underwear for Menstruation & Incontinence
• Functionality aspect
• Durability of the functional elements of the underwear and as well as the aesthetic elements.
• Quick drying properties/challenges we face
• Drapability / comfortability of the underwear
• How did we manage to create a product that looks as normal as regular fashion underwear but with functionality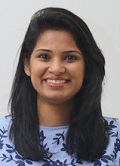 »

Ginny Mendis

Business Entrepreneur, MAS Innovation Holdings Private Ltd

BIOGRAPHY

Ginny Marie Mendis works at MAS Innovation Holdings Private Ltd, a global design & innovation provider in the textile and apparel tech industry, she has been at MAS for the past 8 years and currently leads the menstruation and incontinence space for FemTech pillar at the company. Her team's vision is to be the go-to innovator and manufacturer in the FemTech apparel space, addressing women's health needs, right throughout the female reproductive cycle from menarche to menopause.