New Options for a Responsible End-of-Life
Tuesday, November 16
8:35 am - 10:25 am
A Compost Industry Perspective on Compostable Product Development
The Compost Manufacturing Alliance founder, Susan Thoman, will provide an overview of their facility based/systems approach to third party certifying compostables. In addition, learn the facts on the compost manufacturing industry's perspective on compostable product development in non-food categories, what some of the limitations and challenges are on the processing and collection side for these materials, and many of the drivers pushing compostability as a consideration with consumer items. Topics covered will include emerging compostable labelling legislation, claims, and emerging legislation related to compostables to be aware of. Take a deep dive into the composting industry and the challenges and opportunities to connect the supply chain to the compost piles.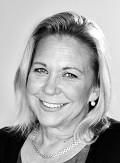 »

Susan Thoman

Principal and Managing Director, Compost Manufacturing Alliance

BIOGRAPHY

Susan Thoman is the founder and managing director of the Compost Manufacturing Alliance, a private industry group collaborating with compost facilities throughout North America to certify compostables using lab and field science. Susan has over thirty years of leadership experience in solid waste recycling and alternative raw materials management field, with twelve years working on the senior leadership team at Cedar Grove Composting in Seattle, Washington.