Product & Process Innovation in AHPs
Tuesday, November 16
2:00 pm - 3:55 pm
Product Innovations for the 2020's
Modern production of hygiene articles relies heavily on utilization of available market materials, and also requires a desire from the consumer market for new and innovative features and a process that will support efficient manufacturing.
The only constant in our market today is change. Materials, consumer needs, manufacturer's capabilities are all continually moving. The winning approach is flexibility and the ability to adapt today while looking at tomorrow, next week and next year.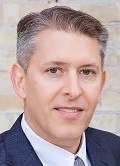 »

Chris Nelson

Business Development Manager, Curt G. Joa, Inc.