Next-Gen Menstrual Products & Their Users
Tuesday, November 15
2:00 pm - 4:00 pm
The Evolution of Clean Menstrual Care
The growing drive towards holistic personal care has contributed to the rise of clean menstrual products that project quality, value and holistic wellness across physical, mental and planetary dimensions.
This shift has entailed a revisit of menstrual product pipeline and brand positioning around a broader variety of clean attributes and formats such as reusables, alongside fostering accessibility, inclusivity and sustainability, which have become wellness pursuits in their own right.
This presentation will examine:
- The current state and five-year outlook of the industry
- Key menstruation consumer segments and consumers' product usage across formats
- The underlying drivers and key implications of consumers' shift to clean menstrual products
- Key industry moves responding to consumers' evolving values and behaviors
- Markets and product categories that have the best prospects for clean menstrual products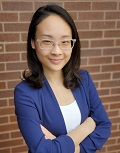 »

Liying Qian

Global Industry Manager – Tissue and Hygiene, Euromonitor International

BIOGRAPHY

Liying Qian is the global industry manager of tissue and disposable hygiene industries at Euromonitor International based in Chicago. Liying's research focuses on influential trends shaping tissue and disposable hygiene categories, underlying consumer preferences and behaviors, competitive dynamics, retail landscape, as well as ripple effects from insurgent brands and alternative product formats. She has contributed to publications such as Tissue World Magazine, Nonwovens Industry and Happi.

Prior to joining Euromonitor, Liying was a financial journalist. Following a brief stint at The Wall Street Journal, where she wrote about US stocks, Liying covered the M&A market in the Midwest for Mergermarket.

Liying holds bachelor's degrees in journalism and economics from University of Missouri.