New Approaches & Unmet Needs in Baby & Inco AHPs
Thursday, November 18
8:30 am - 10:10 am
The Modern Millennium Mom: Who She Is and What She's Looking For
Who is the modern millennial mom and what is she looking for in a diaper? How does she make purchasing decisions when it comes to baby products? What are the tradeoffs she is willing to make and where is she unwilling to compromise? During this talk get to know her and why her preferences matter.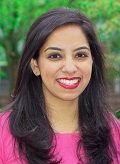 »

Amrita Saigal

Founder & CEO, Kudos

BIOGRAPHY

Founder Amrita is all about elegant sustainability (i.e. creating sustainable products that truly work!). Kudos is just that. But, fun fact, she didn't start with diapers! Amrita's first company out of MIT turned banana leaves into sanitary pads that helped schoolgirls in India get ahead. Today, her dream of creating a leak-defying yet natural diaper is helping parents everywhere get ahead. She's so excited to shepherd Kudos, and all plant-based baby goods, toward a more plastic-free future.