Consumer Understanding - Who Are These People?
Wednesday, November 16
2:00 pm - 3:30 pm
TENTATIVE TITLE: Ingredients, Product Labels & Consumers – What could possibly go wrong?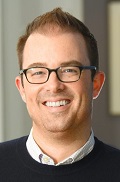 »

Bryan Nicholson

Executive Director, BAHP

BIOGRAPHY

Bryan Nicholson joined the BAHP team in January 2022 as Executive Director and has supported numerous national and international trade associations and coalitions in his 12+ year career as an association management professional.

Prior this experience serving associations, Bryan served in various operations management roles with Amazon.com, Avon Products, Inc. and United Parcel Service (UPS). Bryan has a M.A. in International Affairs from the Milano School of International Affairs, Management and Urban Policy at the New School for Public Engagement in Manhattan and a B.A. in Political Science from the University of Pittsburgh. While working towards his M.A. in International Affairs, Bryan lived and worked in West Africa.

Bryan resides in Paoli, PA with his wife Catie, daughter Avery, son Graeme, and a cockapoo named Winifred. Away from the office, he chases his kids around various parks between Philadelphia and Washington, D.C., chases Pro-V1's, and loudly supports the Chelsea Football Club along with his beloved Philadelphia-based sports teams.