Blood, Sweat, Legislation, and Regulation: The Impact on Business
Tuesday, November 15
11:00 am - 12:00 pm
Millennials and Gen Z are concerned how social issues will impact them in both the short and long term – specifically given that their #1 priority at this point in their lives is family planning and child/parent care. These concerns are motivating companies to think and act differently towards their female customers and employees. With this panel, we'll examine how social and financial drivers are impacting employees today and how these pressures are in turn influencing AHP manufacturers and the marketplace.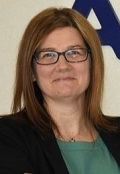 »

Michelle Walasavage

Sr Manager Diversity, Equity & Inclusion, Arkema, Inc

BIOGRAPHY

Michelle Walasavage is currently Sr Manager, DEI for the Arkema Group in the US. In this role she is a strong internal influencer for DEI, providing guidance and consultation across the organization to shape culture, behaviors, policies and work practices. In her 20+ year mostly technical career with Arkema she has led projects and teams across several of the Group's diverse technologies and business units. Michelle has a BS degree in chemical engineering from Lafayette College, an MBA from Penn State University and management certificates from both Cal-Tech & Cornell University.