AHP Trends, Innovation & Market Statistics I
Tuesday, November 14
9:05 am - 10:05 am
AHP Trends, Drivers & Insights: An In-depth Look at the Forces Changing the Industry and the Overlooked Opportunities They Present
This engaging session is centered around Trend Hunter's 18 enduring megatrends rooted in consumer behavior, providing a versatile framework that has empowered leading innovators worldwide to drive meaningful change. Through this keynote, we will vividly illuminate the intricacies of contemporary consumer behavior, offering insights into how these transformations are currently shaping your industry and providing valuable foresight into their future evolution.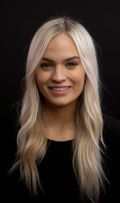 »

Courtney Scharf

Futurist & Chief Content Officer, Trend Hunter, Inc

BIOGRAPHY

As the Chief Client Officer, Courtney Scharf develops, maintains and optimizes Trend Hunter's advisory service, overseeing the client relations team. She's spoken on the topic of innovation at events like Foresight and Trends, Future Festival, and the Salesforce Women's Summit. She has created and customized more than 200 custom presentations for her clients, and overseen her team's creation of thousands of trend reports. She specializes in consumer behavior, motivation, preference, leisure and tourism. Courtney is a firm believer in the power of trends and innovation. Her passion lies in diagnosing and enhancing the innovation process and flow of Fortune 500 companies, such as Samsung and Bacardi. Courtney is the founder of Trend Hunter's Client Research Team, which today has completed more than 10,000 custom trend reports and workshop projects for hundreds of the world's best innovation teams. She has been an innovation and research advisor to hundreds of innovative brands.