Redefining Absorbent Hygiene: Navigating Consumer Voice, Sustainable Innovations, and the Circular Economy
Tuesday, November 14
2:00 pm - 3:30 pm
Supporting the Consumer Buying Choice Linking Circular Economy Advancements to "Believable" Value Propositions
Here is a typical use-case, a persona, for an AHP consumer: need exists to use a product, go to the store/online looking for suitable products, pick a product, buy the product, use the product, repeat until the need goes away. Seems simple enough, it has been the commercial model used by AHP producers for years. Yet the times have changed, from how to define the need, to what drives the consumer to pick a product, including the consideration of every aspect that supports that product's level of sustainability. "Sustainability" is the catch-all phrase for the various facets that surround producing, delivering, using, and disposing of an absorbent hygiene product. There is general alignment that specific and intentional practices of how to achieve sustainability fall into the realm of the "circular economy".
"A circular economy reduces material use, redesigns materials, products, and services to be less resource intensive, and recaptures 'waste' as a resource to manufacture new materials and products.", US EPA
Many companies are pursuing new and novel ways to address circular economies. Technologies are being created, new component materials produced, to touch on one or more facets of the overall life of the products going to market. Now a new issue comes to light, how to be convincing to a consumer base that is also becoming increasingly complex in their buying choices so that they see value in your communications and, in turn, exchange their hard-earned dollars for your product?
During this presentation, we will briefly explore the intersection of technology, circular economy awareness, and the voice of the consumer followed by how at that intersection, one might be best served in placing their marketing efforts.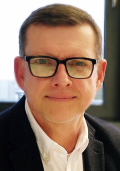 »

Nick Carter

Principal, Freeze Point Consulting

BIOGRAPHY

● Over 23 years in the Nonwoven Industry

● Have served in key roles including Global Director of Intellectual Property, leading New Product Development teams, Director of Market Business Intelligence and Vice President of Marketing for PGI (Berry) and Avgol

● Currently supporting the nonwoven's industry as a consultant, aiding companies interested in exploring opportunities for new market developments

● Inventor on over 100 patent concepts and author of a number of Thought Leadership articles directed to our Industry