There Be Dragons: Tales of Innovation
Thursday, November 16
9:00 am - 11:30 am
Innovate New Levels of Strong Comfort with Our Hygiene Solutions
Three main applications where PE breathable films can be designed to provide specific attributes will be shared.
For nonwoven multilayer disposable industrial applications three solutions will be shared which deliver up to 72% higher water vapor transmission rate (WVTR) for maximum breathability and comfort versus the market reference without sacrificing and in some cases also improving toughness.
For warm pads, the film must allow for long duration and stable heat transfer plus comfort and design integrity. Three solutions at several different machine direction orientation (MDO) ratios show how attributes like softness, WVTR, and needle puncture can be tuned.
For backsheet films several solutions for cast and blown films will be shared with varying levels of breathability according to application needs in adult, baby, and feminine care products. The solutions presented offer +20% tensile improvement, >40% breathability increase, and significant potential cost savings versus market references.
ExxonMobil is creating solutions that can enable sustainability benefits and can help improve quality of life and meet society's evolving needs. We aim to be a leader in the industry in innovations that can help to advance modern living and help to support a net-zero future. Before concluding an overview of our recent announcements for investments and new innovations will be shared; these include mechanical and advanced recycling, biofuels and carbon capture and storage. We believe these activities will be impactful in the near term and that they can help support the future sustainability ambitions of our integrated hygiene value chain.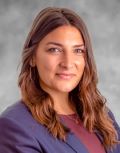 »

Camille Duvalle

PE Market Development, ExxonMobil Chemical

BIOGRAPHY

Camille is a chemical engineer with 14 years of experience in manufacturing and technology roles for polyethylene film products. She currently supports market development for hygiene applications by understanding value chain needs to inform new product development and go to market strategies.

Engaging with customers and industry partners is her favorite part of the job and on the weekends, she can be found in Galveston on a boat with her husband.