2023 Hygienix Innovation Award™ Presentations
Tuesday, November 14
3:50 pm - 4:20 pm
Diap'Earth®
From nature to nature: Mundao brings onto the market DIAP'EARTH®, an industrially compostable disposable baby diaper as a solution to AHP waste problem for a clean, useful and circular end of life. Ecoconception (DIAP'EARTH is the most biobased & plastic free diaper on the market) makes it possible to compost it in an industrial composting facility to bring back carbon to soil and fertilize it. DIAP'EARTH is successfully used and composted in major French cities.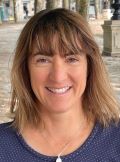 »

Stephanie Mazet

Co-Founder, Sales & Marketing Director, Mundao

BIOGRAPHY

Passionate about circular economy and reducing our impact on the planet, I embarked on an entrepreneurial adventure with my husband as a co-founder of Mundao. I decided to put my sales, marketing and relationship skills to work for our company and make the difference. Our startup is dedicated to the development and sales of industrially compostable absorbent hygiene products, a true revolution in the sector!