There Be Dragons: Tales of Innovation
Thursday, November 16
9:00 am - 11:30 am
Circular Economy and Reduction of the Carbon Footprint: A Step-By-Step Strategy for the Hygiene Industry
The transition towards a circular economy offers an opportunity to reduce the ecological footprint by lowering raw material consumption and minimizing waste generation beneficial for the end costs. It means, keeping the value of resources for as long as possible and rethinking or upgrading production and equipment, consumption and end of life management processes. As per 2050 regulation, it is necessary to develop a long-term vision for the circular economy to set a clear direction of travel and determine which practical actions are possible to turn this vision into a possible reality especially in the hygiene converting industry. In ANDRITZ Diatec we studied solutions for energy saving, for the optimization of raw material consumption and the waste reduction.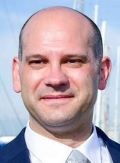 »

Luca Capriotti

Area Sales Manager, Andritz Diatec S.R.L.

BIOGRAPHY

My journey into the hygiene started back in 2000, after I attended the university in Pescara (Italy), studying economics and moving back from London.

I joint the former Diatec in the so called "diaper valley", now ANDRITZ Diatec. I have held various positions in the after-sales and project management departments. Eventually, I made the decision to transition to the sales team, where I now serve as a Sales Manager, dedicated to customers worldwide.

Throughout my extensive travels and first-hand experiences with customers, I've gained valuable insights. These experiences have not only enhanced my theoretical knowledge but also enabled me to practically apply my accumulated expertise. I firmly believe in nurturing long-term relationships and the personal growth of the people I work with. This commitment is evident in my enduring relationship with my current company and my ongoing partnerships with clients.