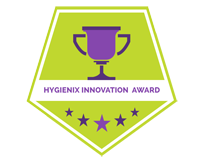 It's our "best of the best": the HYGIENIX Innovation Award™ recognizes and rewards innovation that utilizes nonwoven nonwoven fabric or technology in a way that expands the usage of nonwovens. Presented annually at the HYGIENIX™ Conference, this award honors innovation within the entire disposable absorbent hygiene value chain. Eligible categories include, but are not limited to: raw materials, roll goods, converting, packaging, active ingredients, binders, additives and end-use products.
Companies are encouraged to nominate their own product(s) for the HYGIENIX Innovation Award™, but only one (1) product per company will be selected as a finalist. To qualify for consideration as a nominee for the HYGIENIX Innovation Award™, all nominated products must:
Be involved in some portion of the process and production of a disposable absorbent hygiene product.  Competition is open to all disposable absorbent hygiene products, components, fabrication techniques or nonwoven manufacturing technology utilizing a nonwoven fabric.
Have been introduced to the consumer market, or to the trade, within the 24 months preceding the event date.
Not have been selected as a finalist in any previous HYGIENIX Innovation Award™ competition and not have been a winner of any other INDA award. A nominated product not selected as a finalist or other award winner may be nominated the following year, but no more than two (2) nominations total.
Finalists must agree to present their product at Virtual Hygienix™ and to provide a digital 300 dpi/1MB high resolution image of their product for promotional purposes.
»
Learn more about the HYGIENIX Innovation Award
™
.
Hygienix 2022
Nomination Deadline
August 29, 2022
5:00 pm EDT
Questions?
Chris Plotz
Director of Education & Technical Affairs
cplotz@inda.org
919.459.3748

Prior Winners
2021: Kudos Diaper Subscription Box by Kudos
2020: "MDP" Male Drip Protection by Dermasteel Ltd.
2019: The FEUR System
2018: Calla Lily Personal Care Ltd.: Tampliners®
2017: ALYNE: ALYNE™ Protective Underwear
2016: Sustainable Health Enterprises, (SHE) – Go! Pads