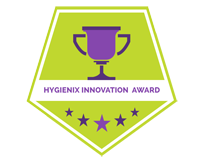 HYGIENIX Innovation Award™ recognizes and rewards innovation within the entire disposable absorbent hygiene value chain that utilizes nonwoven fabric or technology in a way that expands the usage of nonwovens. Presented annually at the HYGIENIX™ Conference, eligible categories include, but are not limited to: raw materials, roll goods, converting, packaging, active ingredients, binders, additives and end-use products.
Companies are encouraged to nominate their own product(s) for the HYGIENIX Innovation Award™, but only one (1) product per company will be selected as a finalist. To qualify for consideration as a nominee for the HYGIENIX Innovation Award™, all nominated products must:
Be involved in some portion of the process and production of a disposable absorbent hygiene product.  Competition is open to all disposable absorbent hygiene products, components, fabrication techniques or nonwoven manufacturing technology utilizing a nonwoven fabric.
Have been introduced to the consumer market, or to the trade, within the 24 months preceding the event date.
Not have been selected as a finalist in any previous HYGIENIX Innovation Award™ competition and not have been a winner of any other INDA award. A nominated product not selected as a finalist or other award winner may be nominated the following year, but no more than two (2) nominations total.
Finalists must agree to present their product in person at the HYGIENIX™ Conference and to provide a digital 300 dpi/1MB high resolution image of their product for promotional purposes.
»
Learn more about the HYGIENIX Innovation Award
™
.
Hygienix 2020
Nomination Deadline
September 21, 2020
5:00 pm EDT
Questions?
Chris Plotz
Director of Education & Technical Affairs
cplotz@inda.org
919.459.3748

Prior Winners
2019: The FEUR System
2018: Calla Lily Personal Care Ltd.: Tampliners®
2017: ALYNE: ALYNE™ Protective Underwear
2016: Sustainable Health Enterprises, (SHE) – Go! Pads